Outlook 2007
In the Tools menu, point to Send/Receive, and then click Download Address Book.

In the Offline Address Book dialog box, make sure that the Download changes since last Send/Receive check box is checked then click OK.

Your Outlook Global Address book is now up-to-date.
Outlook 2010
1. Close Outlook and Re-Open it
2. Select the Send and Receive tab
3. Locate Send/Receive Groups
4. And finally click the Download Address Book to download latest copy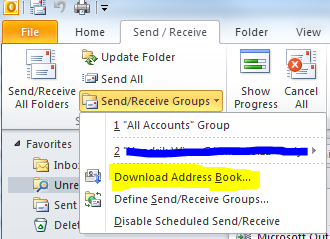 IF OUTLOOK STILL DON'T HAVE THE UPDATED LIST, TRY THE FOLLOWING
Try deleting the user's oab files then have the user re-download the Address Book.
1. Go to C:UsersusernameAppDataLocalMicrosoftOutlook
2. Delete all files with .oab
3. Now follow the steps in "FORCE OUTLOOK TO UPDATE THE OFFLINE ADDRESS BOOK" to download the address book again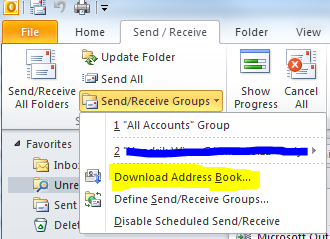 Outlook 2013
Select the Send/Receive tab in the upper left corner of Outlook.
Click on the Send/Receive Groups drop down menu, then Download Address Book…

The Offline Address Book window will appear. Make sure the following options are selected:

De-check the Download changes since last Send/Receive option
Make sure the Global Address List is selected from the Choose address book drop down menu

Click the OK button at the bottom.

The most recent version of the Global Address List will be downloaded from the CUMC IT Exchange server. You may see a status window indicating the download's progress, it will automatically disappear when completed.
Close Outlook when the download has finished. Re-open Outlook and log in; the Global Address List should now contain the most recent information.
 KB10391443  pwillette 4/14/15