WHEN WILL YOU USE THIS ARTICLE
1. Outlook Address List not showing newly created users or contacts
2. Users not receiving latest contacts in cached mode

 OPEN EXCHANGE MANAGEMENT CONSOLE (EMC) BY DOING THE FOLLOWING:
1. Connect to your Exchange Server using RDP or any remote application
2. Now click on start and type Exchange Ma
3. And select Exchange Management Console from the list



NOW WE WILL START THE UPDATE PROCESS, PLEASE DO THE FOLLOWING:
1. Now Expand Microsoft Exchange > Microsoft Exchange On-Premises > Organization Configuration > Mailbox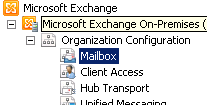 2. Now Select the Offline Address Book tab
3. Locate your Default Offline Address book and Right Click on it then select Update. You can also click on the Update link located in the Action pane on the far right after highlighting the Default Global Address List.


4. You will receive the following message, just select Yes


5. Now to force the update
6. Open a Admin Command Prompt
7. Type  net stop MSExchangeFDS
8. Type  net start MSExchangeFDS
Done after verification